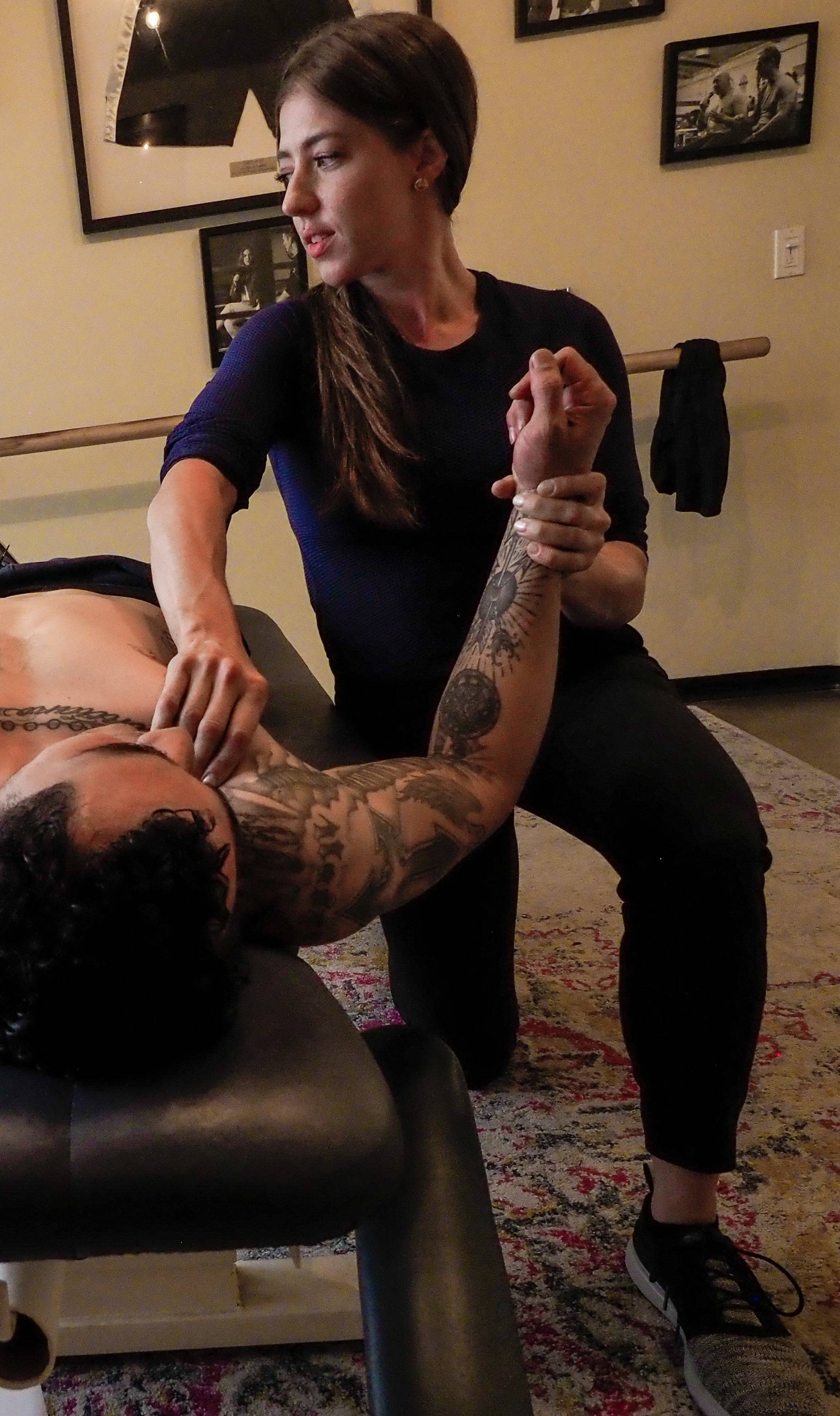 Jena Gatses, DPT, LMT, SMFA, CSCS
Talk to Jena Gatses and you'll come away super-energized. The doctor of physical therapy and human movement specialist was the head physical therapist for NASCAR and motocross teams. Nowadays her clients include movie star Mark Wahlberg, director Peter Berg, elite CEOs, and Olympic athletes.
From her California home, the owner/operator of Scientific Fitness talks about the state of today's strength training.
"People are looking for the next best. Everyone's like, 'What do you think of fasting or starving yourself until 3 o'clock?' I'm like, 'Why don't you just walk around the block one time a day? Let's start there.' I try to do things that are going to be tolerable the rest of your life."
---
Growing up in Illinois, Gatses was at the gym with her dad when she noticed a man in a wheel chair working out. "This guy could barely get around. Things were so difficult for him, and he was happy as could be. I thought it was so cool. That changed my perception of the human body for the rest of my life."
Gatses got an undergrad degree in exercise science, worked as a physical therapy technician and personal trainer, studied massage therapy, and earned her doctor of physical therapy. "I didn't just go to school for strength and conditioning or for the workout part of it. I went to school for everything."
That's why NASCAR called. Pit crews can change four tires in under 10 seconds, a job that's so physical, they're nearly always in pain. "For four years, I was their first full-time physical therapist, head of strength training for six NASCAR drivers and six pit crew teams. It's the longest season in pro sports, and I traveled with them every weekend."
When I'm training professional athletes, and they look at me as a girl who doesn't know what she's doing, that's pressure. As a coach for the motocross division, I was in front of these massive men, and I'm saying, 'Here's the workout.' And they're like, 'You do it.' It was a defining moment. So I said, 'Well, I don't lift light weight like that. Let me go get real weights and I'll demonstrate. From then on, I got their respect.
About wearing compression
"I research quality products that help the body's physiological response. What things can I bring into the situation to help my athletes recover better, perform better, just be happier as a person so their immune systems are stronger? CEP and Medi are one of the most highly rated, researched compression brands out there. I did research recently, and it's 30 percent more oxygen delivered to the tissues if you're wearing those socks. Imagine 30 percent more oxygen delivered to your brain and your body. You wouldn't be so fatigued, you'd perform better and you'd be sharper with your movements."
Dr. Jena Gatses is a doctor of physical therapy known for specializing in movement and rehabilitation. We're proud to have her endorsement of CEP Compression technology's health benefits.
---